Building customer loyalty is essential for any business, big or small. Acquiring new customers can be expensive, in fact, acquiring a new customer costs 5 to 10 times more than selling to an existing one, so it's crucial to keep existing customers coming back for more. As a business owner or marketer, your goal should be to create a loyal customer base that will choose your brand over competitors in the long run. 
In this article, we will discuss 5 essential steps of building a loyal customer base and how a customer experience management platform can streamline the process.
Why Customer Loyalty Matters
Many businesses believe focusing on acquiring new customers all the time leads to growth. In fact, loyal customers are the ones who lead to growth. Not only does it cost less to retain existing customers than to acquire new ones, but according to various studies we did in cooperation with our retail clients, loyal customers convert more frequently, and they also spend more each time.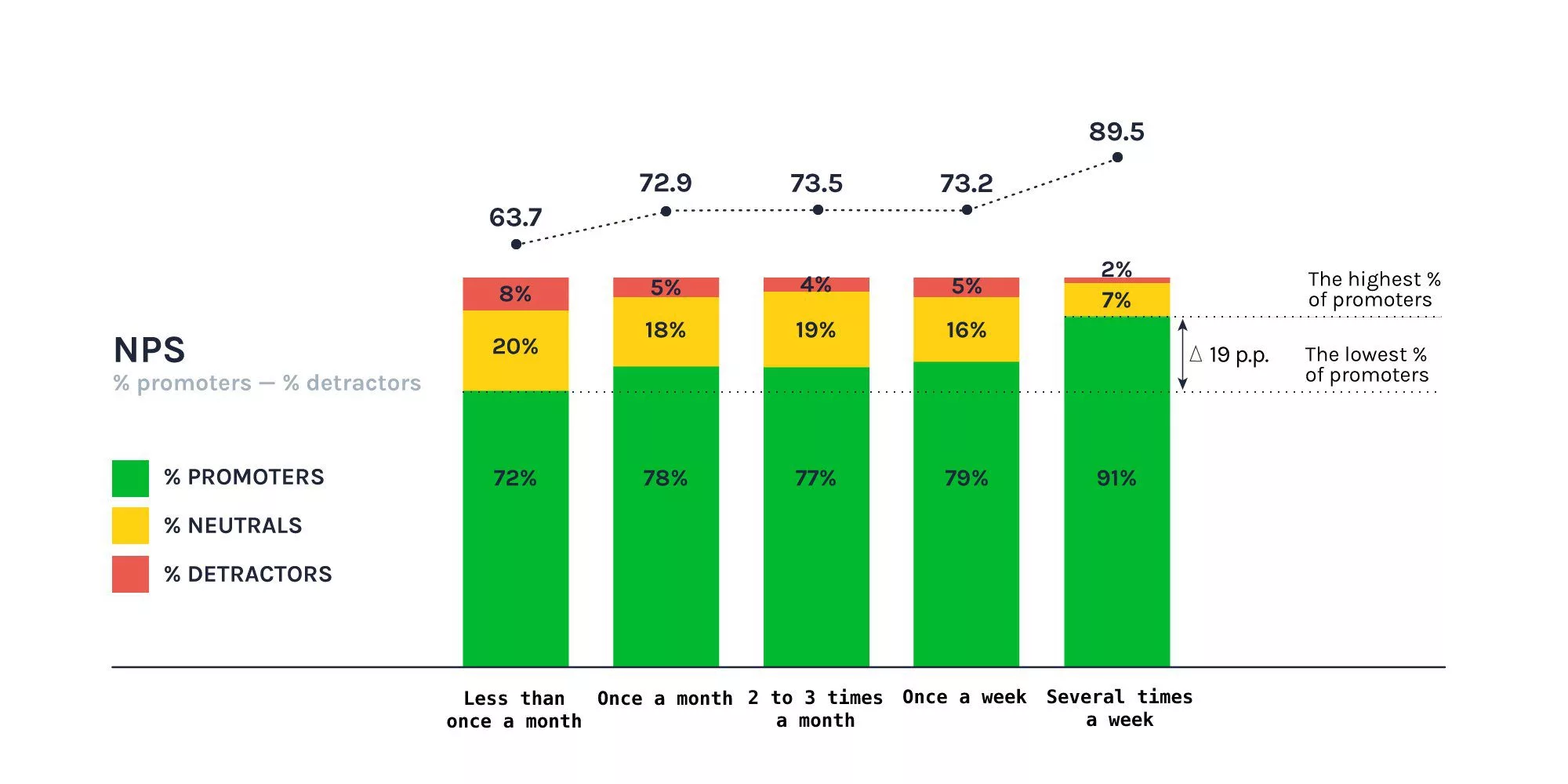 Data from Staffino's retail CX survey collected from 2,939 respondents in March 2022.
What's more, a loyal customer base is one of the most powerful marketing tools. These devoted customers not only believe in your company, but they also spread the word to potential customers through positive reviews and user-generated content. This word-of-mouth advertising can greatly influence purchasing decisions. By cultivating a group of loyal "promoters", you can not only boost customer loyalty but also attract new customers for free.
How to Build Customer Loyalty in 5 Steps
It's clear one cannot underestimate the value of a loyal customer base and the impact it can have on the business. Now, are you ready to learn the most effective ways to improve customer loyalty? Let's dive in!
Offer exceptional customer service
Providing exceptional customer service is the cornerstone of building customer loyalty. Customers want to feel valued and important. When they have a positive customer experience, they are more likely to return to your business in the future. Make sure to provide multiple channels for customers to contact you, including phone, email, chat, and social media. Train your employees to be friendly, knowledgeable, and responsive to customer inquiries or complaints. Employee engagement software can prove invaluable in effectively managing customer service representatives while also enabling you to pinpoint top performers and identify areas for improvement.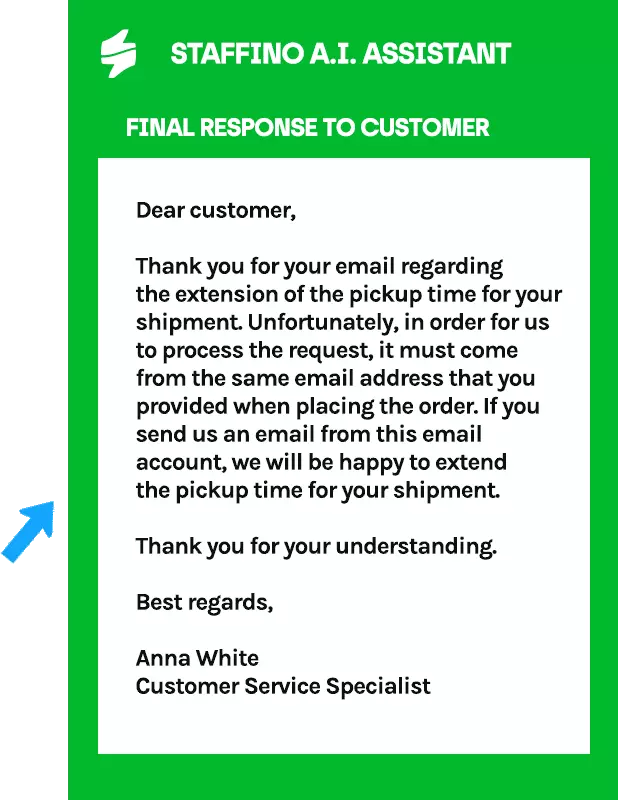 Recently, AI-powered customer service tools proved to be extremely effective in providing better customer experiences. If you're thinking about chatbots, let us stop you right there. The tools we're talking about can quickly pinpoint gaps in your customer service by analysing your employees' responses, identifying the root causes of customer dissatisfaction, and even suggesting personalised responses that will leave your customers feeling valued and appreciated. If you're interested in exploring this innovative solution, fill in the form at the end of the article to schedule a free demo of the Staffino platform today. Don't miss out on the opportunity to take your customer service to the next level!
Build a strong brand reputation
Your brand reputation is critical for building customer loyalty. People are less likely to trust unfamiliar brands or brands they've had a negative experience with. Ensure that your business is reputable and trustworthy by providing high-quality products or services, treating customers with respect, and being transparent about your business practices. 
If you need a hand in planning your brand experience strategy, you can always reach out to customer experience consulting experts, who will help you navigate the complexities of crafting a successful brand experience that resonates with your target audience. 
Use personalised marketing
Personalised marketing involves tailoring your marketing efforts to your customers' individual needs, interests, and preferences. It can help you build stronger customer relationships and increase loyalty, as customers feel valued and understood. Collect customer data, such as demographics, purchase history, and browsing behaviour, to customise your marketing messages to each customer. 
And don't forget about the importance of rewarding loyal customers! By offering special deals and incentives, you can retain your most valuable customers and increase the number of conversions. Consider implementing a loyalty program that incentivises customers to return, such as discounts, freebies, or exclusive access to sales or events. By showing your customers that you value their loyalty, you will create a positive impression and build lasting relationships.
Listen to customer feedback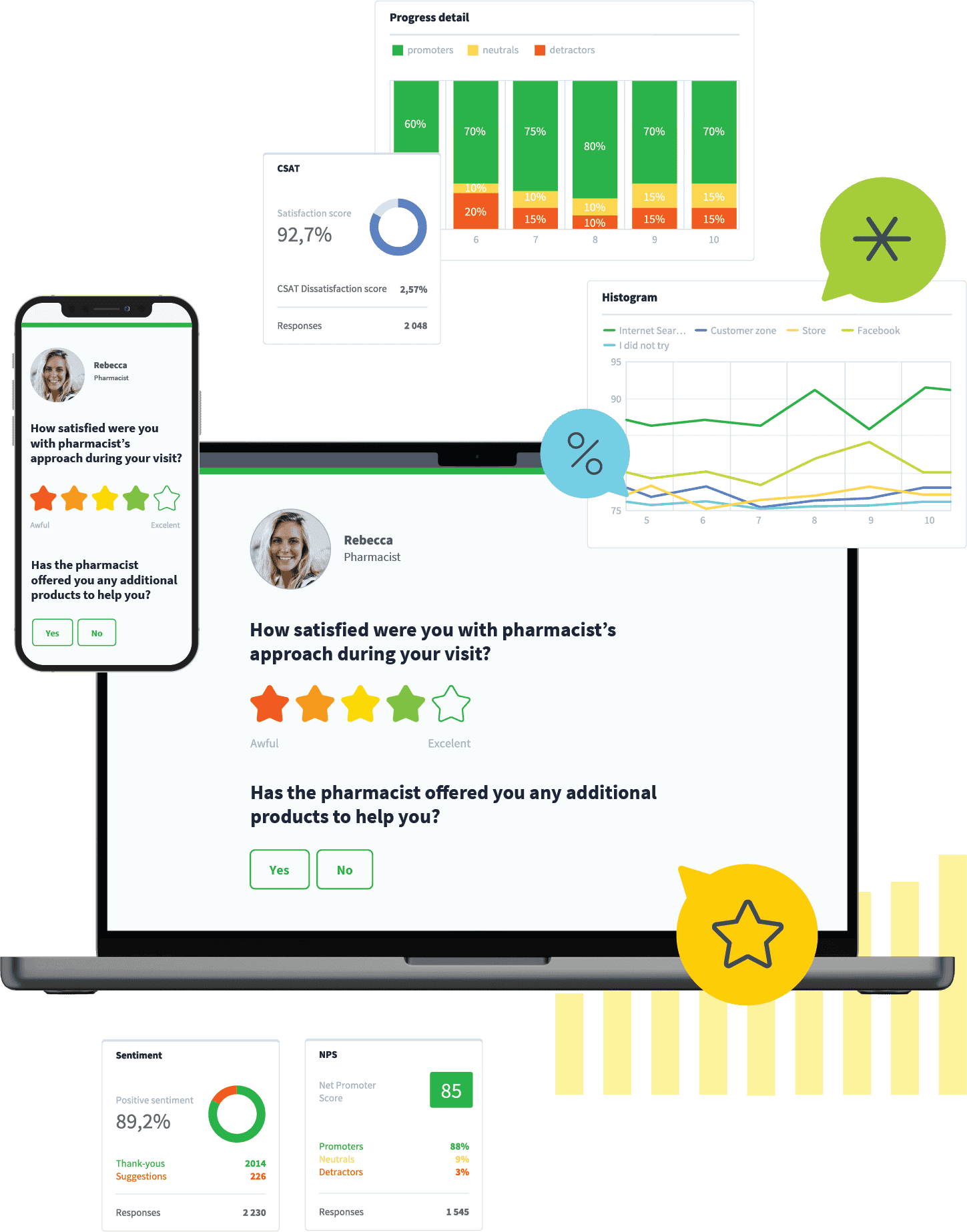 Your customers are your best source of feedback on what's working and what isn't. Actively seek out feedback from your customers and use it to improve your business. By addressing customer concerns and making improvements based on their feedback, you will show that you value their opinions and are committed to providing a better customer experience. We highly recommend utilising a customer experience management platform to streamline the feedback management process and ensure that no valuable insights are missed.
Conclusion
Building customer loyalty is an essential part of any business's success. By providing exceptional customer service, building a strong brand reputation, using personalised marketing, rewarding loyal customers, and listening to customer feedback, you can create a loyal customer base that will continue to choose your brand over competitors. Remember to focus also on employee experience, as engaged and motivated employees are the ones who provide customers with exceptional service. Customer loyalty takes time to build, so be patient and consistent in your efforts, and you will see promising results in the long run.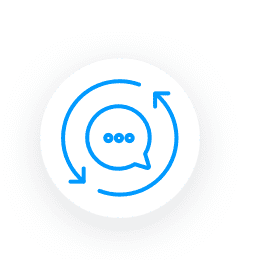 Get a First-Hand Experience Today!
Staffino is the perfect tool for creating engaging surveys, tracking performance, responding to customer feedback, and rewarding top employees. Get started today with our FREE demo!