Gamification in the workplace is drawing the attention of the world's leading companies today. The reason organisations invest in gamification is apparent – it helps improve employee engagement and increases employee productivity through a healthy "race". Here is everything you need to know if you are playing with the idea of adding gamification to your employee motivation management. Stick with us to learn how companies implement and use gamification to improve employee experience and the business bottom line.
Examples of Gamification Strategies That Boost EX
Gamification at work is a great way to increase employee productivity and enthusiasm. It does so by making the work more interesting by applying game mechanics to the daily workflow. Some examples of game elements used in gamification are: 
Goals – employees who complete tasks or achieve specific goals get a digital badge or points.
Levels – employees increase their level when completing tasks. A leaderboard usually displays employee ranking and inspires them to work harder.
Teamwork – encourage employees to work in groups or teams and contribute to the team ranking. 
Learning – elements such as quizzes or fun facts are a great way to enrich the day-to-day stereotype.
Rewards – in addition to the abovementioned points and badges, it is a good idea to give tangible rewards based on the performance results, such as an extra day off, a salary bonus, discounts, or gift cards.
Gamification at Work and the Employee Lifecycle: Where Does It Fit?
A well-designed gamification programme will stimulate employees' intrinsic motivation, such as gaining new skills or succeeding at their job, while offering extrinsic motivation through digital and tangible rewards. Several main stages of the employee lifecycle can benefit from a gamification programme:
Use gamification to create an effective onboarding process. For example, you might encourage the employees to learn about the company and its operations through games such as quizzes or office scavenger hunts.
Engage your employees from day one and set them up for success. Improve employee experience with training by letting them unlock various levels and achievements. In this way, the employees will have more fun and are more likely to remember the information learned.
Gamify employees' daily workflow by creating competitions for sales, leads, or completed projects. Leaderboards will help you track the performance of departments, teams and team members and encourage employees to outperform their colleagues while promoting a positive experience.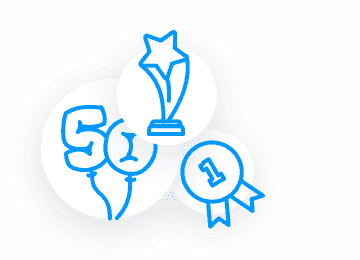 Boost Employee Productivity through Gamification
Motivate and reward your employees with Staffino's Employee Gamification. Our platform provides custom challenges, rewards, and leaderboards to help you increase productivity and engagement.
Successful Gamification in Practice
If you are looking for real-life gamification examples that work, you have come to the right place. Staffino's gamification module boosts employee engagement through fun digital badges and performance-based competitions. To achieve the best results, the clients are encouraged to track employee performance and link it with tangible rewards and regular recognition.
MALL.CZ, the largest Czech online marketplace offering various products ranging from outdoor equipment to musical instruments, integrated Staffino's gamification in January 2022. By the end of March, they have already seen great results.
In addition to fun digital badges, MALL.CZ incorporated monthly incentives for best performers based on customer satisfaction with the agent and net promoter score. The amount of feedback received was also taken into account for fair results.
Not only has workplace gamification increased employee motivation and engagement, but it also helped improve customer experience. In just three months, we saw a 2–10% improvement in customer satisfaction in teams where gamification was effectively communicated.
How to Implement Gamification
When gamification is not used correctly, it will hardly boost employee productivity and happiness. Therefore, the safest way is to invest in an employee motivation management platform that offers gamification as one of its solutions. EX experts can help you design a suitable gamification programme that meets your business goals and provide advanced reporting tools for monitoring the performance of teams or individual employees.
Want to gamify workplace like a pro? Then follow these key steps:
Set a specific goal you want to achieve, such as better employee engagement, more sales, or lower employee turnover.
Insert game mechanics into day-to-day operations.
Track performance with the help of reporting tools and share the results with employees.
Motivate employees through rewards and recognition based on their performance.
Reassess the gamification strategy and its results regularly and adjust the goals accordingly.
Conclusion
In short, there are countless original ways to gamify workplace to improve employee performance and business results, but one should choose tactics according to the goals they have in mind. To avoid the pitfalls of bad implementation, consult your gamification strategy with employee experience specialists, who will help you bring your employee motivation management to the next level.