Nowadays, businesses face a real challenge as they transition from the physical to the digital world, with customer experience being one of the most challenging areas. Digital customer experience is a sum of all the online interactions customers have with your brand and their consequent impressions. On their online journey, customers may google your product features, browse your online store, check out online reviews, contact your customer service, make an online order, and pay for their online purchase. This article explains what makes digital customer experience essential and how to improve it.
Digital Customer Experience Matters More Than You Might Think
The digital customer experience matters even more than the traditional one in the sense that it is much more difficult to retain a customer in the digital world if something goes wrong.
In the past, customers could not always afford to visit other than their local provider of goods or services, simply because it wasn't time and cost-effective. However, another option in the digital world is just a click away. So, if a customer isn't pleased with their experience at one online store, they will simply scroll through other options and choose what suits them best, all from the comfort of their home.
And that is why businesses need to stand out in the digital world. The customer experience they provide must be not only satisfactory but rather unique, as it is one of the critical factors in customer retention management.
Practices to Improve Your Digital Customer Experience
A customer-centric approach is imperative for successful customer experience management in both the physical and digital worlds. However, applying the same practices to improve CX in both these worlds is not ideal. Let's look at some of the most effective ways to improve your digital customer experience:
Optimise your website speed
A 2018 study by Google found that when a page load time goes up to three seconds from one second, the probability that potential customers will bounce the page increases by more than 30%. When online customers are dissatisfied with the user experience, they can quickly lose interest. Therefore, the first step on your digital customer experience management journey should be website speed optimisation. This can be achieved by reducing redirects and image size, switching to better web hosting, or limiting the number of plugins on your website.
Collect customer feedback
Collecting customer feedback and using real-time analytics is crucial to gain deeper insight into customer issues and improve their experience across all touchpoints. A data-based approach can help you better target your customers' needs and see what areas do and do not work as expected.
Besides, responding to dissatisfied customers promptly and improving their digital interactions with your brand will increase customer retention. The easiest way to gather customer feedback, analyse it, and communicate with customers is through a holistic online customer experience management platform such as Staffino. It also allows you to set notifications for negative feedback and conveniently send a timely response to the unhappy customer via chat attached to every piece of feedback.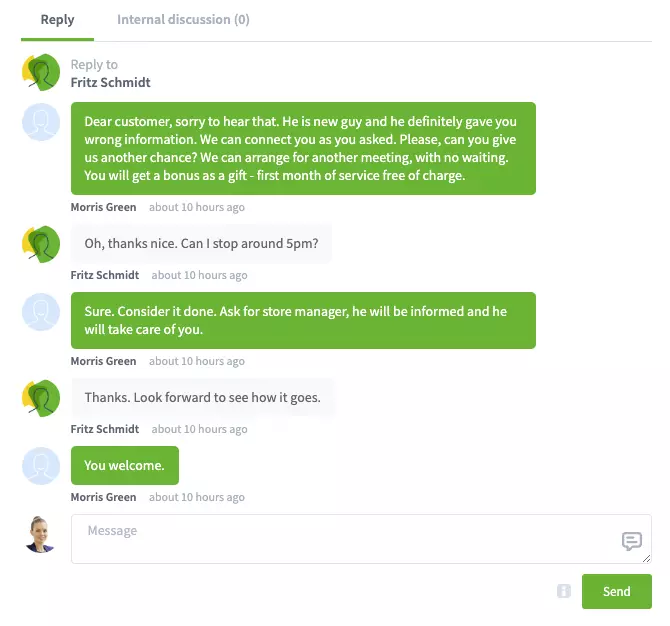 Refine your customer service
The level of your digital customer service significantly impacts the customer experience. For example, at a physical store, if the customer has a question, they will go to the shop assistant for help. In the online environment, they often expect an equally fast response from your customer service.
The more customer service tools you offer, the better, provided that you actively manage all of them. While FAQs and help desk are a must-have, live chat and chatbots are a nice differentiator and an effective way to make the online customer journey even smoother.
A polite, quick, and problem-solving approach is key to a positive experience with customer service. Always give your agents the proper training, tools and up-to-date resources. In addition, monitor if your customer service gets a lot of negative feedback. An advanced customer feedback tool can help you identify employees who might need further training to solve customer issues professionally.
Go omnichannel
The online realm is vast, and the digital customer experience doesn't end with your website or mobile app. Ensure that your customers feel heard and valued regardless of the channel they use to interact with your brand along their customer journey.
Don't ignore popular channels such as Google reviews or social media. Providing timely responses to customers' questions and addressing their feedback can help build an emotional connection with them. When customers feel that their relationship with a brand is personal, they are more likely to return in the future and recommend it to others. Actively managing all the channels can boost not only brand awareness but also customer loyalty, brand advocacy and revenue.
💡 Tip: If you like to handle all your CX activities under one roof, Staffino allows you to integrate and analyse also external customer feedback from Google reviews.
Conclusion
In the digital realm, businesses need to provide a smooth, hassle-free experience; otherwise, the customers won't stick around. Focus on your website experience, collect feedback, respond to customers promptly, and provide support across all channels to ensure an outstanding digital customer experience that drives sustainable business growth.