How to encourage your employees to go the extra mile when the usual employee perks such as career growth, competitive salary, and team buildings don't seem to work anymore? You might need to change your tactics and adopt an innovative approach to employee motivation management. If you learn how to engage and motivate your employees properly on a daily basis, you will soon reap all the benefits including a more productive workplace, lower turnover, and improved business performance.
The Importance of Employee Motivation
Employee motivation widely affects the energy and commitment your employees show at work. Motivated employees are happier, more satisfied, and more productive, which means they also contribute to better business results. 
Even though employee motivation has many different forms, some have proven to be more effective than others. Generally, the best motivation factor is a financial reward. But what if you can't afford to give a raise to every employee or what if the money do not make any difference in employee performance? Research shows that 70% of all employees feel they receive little or no recognition at work. Employees who know they will receive recognition for their achievements have a stronger will to deliver results, which affects their productivity and consequently improves the business performance of the organisation.
Are Your Employees Motivated?
Employee motivation is not easy to measure, but you can get an idea about it from employee performance. Are they engaged, efficient, and stimulated to perform their tasks in the best way possible? Is the customer feedback rather positive or rather negative when it comes to the approach of staff? Analyzing customer feedback is an effective way to determine if the customers are satisfied with your staff, recognize best performers, and address low-performing employees.
In order to get happier, engaged, and more motivated employees, you should consider adding different, often more effective ways such as employee recognition, appreciation, and non-financial rewards to your employee motivation management.
Top 3 Non-Financial Ways to Motivate Your Employees
The most undervalued approach to boosting your business is through motivating your staff in non-financial ways. Depending on the results you want to achieve, you can implement various employee motivation strategies.
1. Share Positive Feedback
Collecting customer feedback related to specific interactions with your staff is a great way to start. You can expect 50–80% of feedback to be positive, and sharing it with your employees can instantly make them feel valued and happy. Let the customers thank your employees for their service. Such a daily dose of positive energy is as important to them as their financial reward.
If you choose the right employee engagement software or platform, you can not only solicit the feedback but also decide what feedback is visible to your employees. With Staffino XM platform, your employees can see either only positive feedback or the whole range. They can also receive email notifications of real-time feedback or a daily summary. Receiving regular thank-yous will spark your employees' morale and engagement, and, in return, improve customer satisfaction.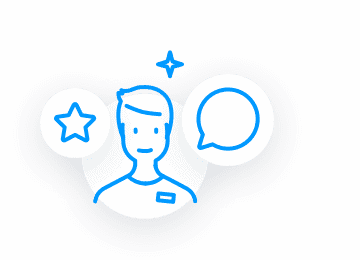 Give Your Employees the Recognition and Motivation They Deserve
Does your team need a little extra motivation? Our platform provides powerful insights into your team's performance and various recognition tools that help ensure everyone feels appreciated.
2. Give Unique Rewards
Another way to boost employee motivation is through gamified employee recognition. Recognition gives employees a sense of accomplishment, and, according to research, 93% of those who feel valued at work are motivated to deliver the best performance. 
Gamification in the workplace is an innovative way to reward your employees for their achievements and increase their participation. Staffino's gamified dashboards allow the employees to see their personal performance, compete with their colleagues or teams, and receive beautifully designed badges – hattrick for three consecutive days of positive feedback, early bird for the earliest feedback of the day, bolt for the fastest positive feedback received, and much more.
3. Show Your Appreciation
Show your employees that their work is meaningful and that they are a valued part of your organisation. Employee recognition, whether gamified or face-to-face, is crucial for business success. 
Therefore, consider saying thank you to the best performers regularly and let all the employees know how their contribution fits into the big picture business goals. Write a thank-you note, thank your team publicly, or buy lunch for them. You will be surprised to see what a powerful motivator a little gesture of appreciation can be.
Conclusion
Always bear in mind that your organisation should be a pleasant place to work at. First, make sure you have the basic requirements such as rightful pay and good working conditions covered, and then you can start adding other benefits and forms of appreciation. There are many interesting alternatives of reward that don't involve money and still increase employee engagement and motivation, just choose the one that matches your business objectives.